ITALY HOLIDAY RESORT! ! EXCLUSIVE MANDATE! 5 Mio. €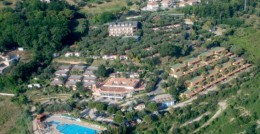 The HIHC HORVAT REAL ESTATE GMBH receive an exclusive sales mandate for a beautiful, 50,000 square meters,holiday resort in ITALY!
On the hillside above the sea, situated overlooking the Adriatic Sea on a natural terrace. 15 km away is Pescara, the capital of Abruzzo, with the airport, among other things, is served by Ryanair.
The holiday resort offers a total of 150 bungalows, apartments and mobile homes accommodate about 160 caravans or tents, surrounded by 400 olive trees, which contribute in the fall for the recovery of its own olive oil. An over 200m² large sanitary facilities, as well as a mini supermarket also belong to the holiday resort.
Feel free to contact us and arrange an appointment today with us.
Object ID 15 / 164A / 3561 I